Inspired by Nature, Crafted by Hand
About Me
I am thrilled to find both time and resources for creating my own work after teaching high school ceramics for many years. I especially enjoy combining my interest in botanical drawing with my clay work to produce pierced, carved, and sgrafitto designs using plant motifs. I have begun altering forms more often to add more movement to my work. My focus on functional pieces is a reflection of the pleasure obtained from the frequent contact with pieces that comes with everyday usage.
Today is the start of the tour at NorthernIlPotteryTour.com! And it's the first day for my new Etsy site, NancyGormanPottery..and I have already had my first sale! So exciting. I'll be doing a demo of sgraffito tomorrow at 1 pm. Check the website to register for a free Eventbrite ticket so you can watch all of the potters demonstrations via Zoom.
In April I bought a shiny new VL Whisper wheel. You can tell by my grin how pleased I am! Who knew that a 10 x 10 private studio at ClaySpace could be so spacious and lovely!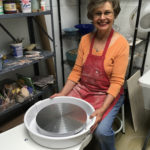 I recently moved into a private studio at ClaySpace and am loving it! Lots more shelf space, my own glazing area, surrounded by my Dad's photos and, best of all, REALLY bright lighting so I can see what I'm doing!