Inspired by Nature, Crafted by Hand
About Me
I am thrilled to find both time and resources for creating my own work after teaching high school ceramics for many years. I especially enjoy combining my interest in botanical drawing with my clay work to produce pierced, carved, and sgrafitto designs using plant motifs. I have begun altering forms more often to add more movement to my work. My focus on functional pieces is a reflection of the pleasure obtained from the frequent contact with pieces that comes with everyday usage.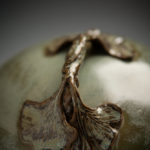 Thanks to some lovely photography by friend Jean Burnett, I have added some new work to my extended gallery page. I've also added a new show to the 2017 schedule, the Prairie Arts Festival in Schaumburg on Memorial Day weekend. Now back to the studio to keep building the inventory for the busy season ahead!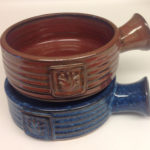 I made these bowls as brie bakers, but now I'm thinking of calling them Brie baker-chili-onion soup-ramen-pot pie-soup bowls!  What do you think…too long?!?
I think I'm finally catching on to uploading pictures more successfully! Here is my maple lantern done in the mint glaze. It's a softer look, less weathered looking than when glazed with the dry matt green. I like this maple leaf shape better than the sugar maple shape because it is more deeply cut. I can't remember what it's called but it grows to a medium height in my front yard!