Inspired by Nature, Crafted by Hand
About Me
I am thrilled to find both time and resources for creating my own work after teaching high school ceramics for many years. I especially enjoy combining my interest in botanical drawing with my clay work to produce pierced, carved, and sgrafitto designs using plant motifs. I have begun altering forms more often to add more movement to my work. My focus on functional pieces is a reflection of the pleasure obtained from the frequent contact with pieces that comes with everyday usage.
In April I bought a shiny new VL Whisper wheel. You can tell by my grin how pleased I am! Who knew that a 10 x 10 private studio at ClaySpace could be so spacious and lovely!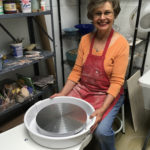 I recently moved into a private studio at ClaySpace and am loving it! Lots more shelf space, my own glazing area, surrounded by my Dad's photos and, best of all, REALLY bright lighting so I can see what I'm doing!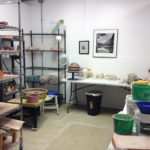 I have posted my show schedule for 2018…at least the shows I am anticipating since the jurying process has not yet finished!  But I will make any changes once the official news is in. I will now have about a dozen pieces in the LaGrange Art League Gallery in LaGrange, Illinois. I will be changing these out every month or two to keep the selection fresh. Meanwhile, I'll be hard a work building my inventory for the 2018 season. I'm looking forward to experimenting with the new soda kiln at ClaySpace, hoping I like the more random effects it can create on my sgraffito wares.