Inspired by Nature, Crafted by Hand
About Me
I am thrilled to find both time and resources for creating my own work after teaching high school ceramics for many years. I especially enjoy combining my interest in botanical drawing with my clay work to produce pierced, carved, and sgrafitto designs using plant motifs. I have begun altering forms more often to add more movement to my work. My focus on functional pieces is a reflection of the pleasure obtained from the frequent contact with pieces that comes with everyday usage.
Its been a challenging winter and spring this 2020! So many fairs cancelled makes staying positive creatively more difficult but we artists are problem solvers at heart. So I will have a dozen sgraffito pieces in the ClaySpace June show "After the Storm", all featuring animal motifs. See the work on the ClaySpace Facebook page, call the office to make a purchase, then pick up the piece in the Gallery lobby, all without catching the virus!
In addition we are sponsoring a trunk show…literally…called "Cruisin' Clay" on the 4th Friday evening of each month this summer. I will set up my wares in and next to my trunk (hmmm, better clean the clay bits out of it!) in the parking lot of the ClaySpace studio. The trunks will be open from 5:30 to 8:30 pm, following appropriate distancing guidelines, of course! The first show is Friday, June 26.
In April I bought a shiny new VL Whisper wheel. You can tell by my grin how pleased I am! Who knew that a 10 x 10 private studio at ClaySpace could be so spacious and lovely!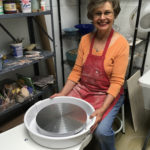 I recently moved into a private studio at ClaySpace and am loving it! Lots more shelf space, my own glazing area, surrounded by my Dad's photos and, best of all, REALLY bright lighting so I can see what I'm doing!