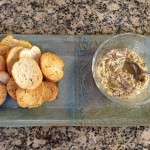 Thank you, Juliet Deadman, for showing us how you used the tray you purchased at the Elmhurst Garden Walk. Mmmmm, looks delicious!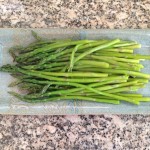 Juliet has found that this tray is perfect for asparagus as well as appetizers.  What's next?!
My candle holders have found a new home on the Gib Van Dine dining room table. Thanks, Gib, for asking me to make these for you.
Katherine Hamilton-Smith sent this picture of the oval basket she bought at the Libertyville show. She likes how the color is repeated in the things she already had. I'm sure the pot is happy to have found new friends!
Bar DeLance chose one of my "bathtub" pots in blue and Carol Ohrn picked the only one I have ever glazed in pink. Carol tells me I should do more things in this pink….what do you think? (Hey, that rhymes!)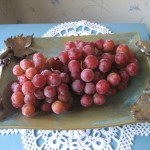 You will have to click on the picture to see the grape leaf handles on this handbuilt tray.  Thanks to Fran Bartholomaus for sending this…love to see people really using my pots!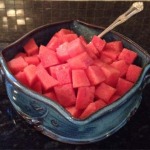 Thank you, Anne Merkey, for sending this picture of one of my square baking dishes in use for serving fruit! I especially like making this form because I get to push and pull on the clay so much to make the round pot square, to make it dance!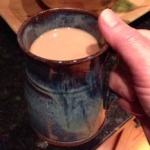 Another blue mug has found a happy home with Jayne Hayes. "It is such a comfortable fit and just the right size for coffee or hot chocolate. I've had both." It was so nice to meet you at the Little Red Schoolhouse art show.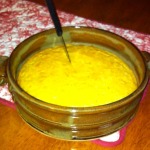 Sara Parvinian bakes a delicious cornbread in this waterfall brown casserole. I think we need to have this recipe, don't you?!?