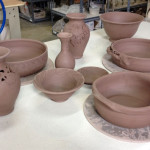 Finally, after a very busy week a productive Friday. It always surprises me how long things take!
I just added a new page called "Pots at Work and Play".  I will be posting pictures sent to me by my customers so we can see how my "babies" are doing in their adopted homes!  Julie bought a rectangular tray last Sunday at the Elmhurst Garden Walk and used it that very night. I'm hoping more people will share their pictures. I'll be posting some as well, including the occasional recipe that I've used. But not tonight…I've been potting all day and am too tired to cook!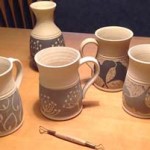 Just finished sgrafitto designs on these cups and small vase. Tomorrow I'll do the bowl and baking dish I still have under wraps at the studio. With all the rain we have had, the biggest challenge is getting stuff to dry enough to fire!