I tried a new glaze…at least new for me…called Nutmeg on one of my little dip trays. I really like the way it breaks over the textures. What do you all think? Now I have to try it on some larger, more vertical pieces to see how much it runs, and then do tests of it win combination with my other glazes.  The recipe came from the February 2003 issue of Ceramics Montly:  Dolomite   23.3%, Spodumene 23.3%, Frit 3134 6.8%, Kentucky Ball Clay (OM4) 23.3%, Flint 23.3%. Then add Red iron oxide 1.07%, Yellow ochre 3.24 %, tin oxide 4.85% and Bentonite 1.94%. I fire to cone 6 oxidation.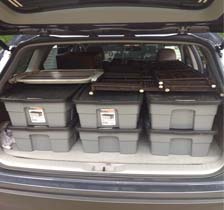 The car is all loaded for tomorrow's show at The Growing Place, but I'm worried: there are 13 bins of pots packed in there….hope that's not unlucky! I am leaving some really nice pieces at home simply because I ran out of room. You know you married well when your husband chooses his new car large enough to carry all your stuff!
A few days after the website was launched we took off for Alaska for our first cruise and 10 days traveling. We spent 3 days in Homer in a lovely cottage with moose for neighbors.  Homer is home to many artists and I enjoyed talking with another potter and seeing all the work. But now it's back to work for me to get ready for summer shows!